print
The 2023 NFL free agency period is around the corner and one of the highlights of this class is the quality of running backs. If you're a club that needs a good running back, this is the year to find one.
Saquon Barkley headlines the talented group. We could also see Josh Jacobs, Miles Sanders, David Montgomery and Tony Pollard reach the open market. And for teams not looking to break the bank, there are numerous dynamic runners available outside of the top three or four, including several who can also impact the passing game. How do the best potentially available running backs stack up? We split 16 of them into five tiers based on who will get paid, expected future production and age.
Jump to tier: 1 | 2 | 3 | 4 | 5

TIER I
Saquon Barkley, New York Giants
Age for 2023 season:26
Our first tier includes a pair of featured backs, led by Barkley. Following an impressive season in which he led all rookie backs in yardage (1,307), the 2018 second overall pick struggled to stay on the field over the following three years due to various injuries and missed 21 games. But finally healthy in 2022, Barkley bounced back in a big way, pacing the position in snaps with 825 and finishing in the top five in carries (295), targets (77), touches (352) and scrimmage yards (1,650).
Barkley's efficiency hasn't quite jumped off the page, but he's one of the league's most talented backs and can make an impact as a rusher and receiver. It will be a big shock if he doesn't remain with the Giants, perhaps on the franchise tag.
---
Editor's Picks
Ideal landing spots for the NFL's top 50 free agents: Here's where each player fits best5dMatt Bowen

Answering key offseason questions for every NFL team: Intel on Tua, Lamar and the No. 1 pick4dNFL Nation

Cut Ezekiel Elliott? Trade Chris Godwin? Barnwell forecasts offseason moves for all 16 NFC teams6dBill Barnwell
2 Related
Josh Jacobs, Las Vegas Raiders
Age for 2023 season:25
Jacobs picked a perfect time for a breakout season, turning offseason reports that he'd be demoted to a committee role into league-high showings in touches (393) and scrimmage yards (2,053). The 2019 first-round pick was exceptional as a rusher (340 attempts, 1,653 yards and 12 touchdowns) and receiver (53 receptions and 400 yards). He has finished all four pro seasons no lower than 15th at running back in rushing yards and was top 15 in receiving yards in 2021 and 2022.
Jacobs has expressed frustration with the Raiders, and the organization declining his fifth-year option last offseason certainly didn't help. But he could be inspired to return if Las Vegas makes a quarterback upgrade.

TIER II

David Montgomery, Chicago Bears
Age for 2023 season:26
Jacobs is the only free agent back with more touches than Montgomery's 1,070 since he was drafted in 2019. Montgomery has been a factor as a rusher and receiver. Since 2019, he is ninth among running backs in rushing yards with 3,609 and receiving yards with 1,240. He has also proven pretty reliable for a featured back, appearing in 60 of 66 games, fumbling only six times in his career and never finishing a season lower than 19th at the position in snaps played.
Montgomery lost some work to an impressive Khalil Herbert (still under contract) last season, which may not look good on the surface. But he can impact multiple parts of an offense and protects the ball well, so he will have a strong market in March.
---
Miles Sanders, Philadelphia Eagles
Age for 2023 season: 26
The lead back for the NFC Champion Eagles, Sanders has been nothing short of elite as a rusher during his four professional seasons. The 2019 second-round pick leads running backs in rushing expected points added (16.3) since he was drafted. And it's not just volume based. He's first in rushing EPA per carry and fifth in yards per carry (5.0) among 38 running backs with 400-plus carries during the span.
But Sanders struggled in the passing game over the past three seasons, averaging 3.8 yards per target. That is last among 73 running backs with at least 50 targets since 2020. In 2022, he ranked fifth in the NFL in rushing yards (1,269) but totaled only 78 yards on 26 targets in the passing game. Sanders has only been asked to play roughly half the snaps during the Nick Sirianni era in Philadelphia, so it will be interesting to see if the Eagles open the checkbook this offseason or go another direction.
---
Tony Pollard, Dallas Cowboys
Age for 2023 season:26
Pollard was drafted in the fourth round in 2019 as a change-of-pace option behind featured back Ezekiel Elliott, but after three seasons in that role, Pollard proved too talented to keep off the field and operated in a near-even split with Elliott by 2022. He finished 21st among backs in touches (232) but was 12th in scrimmage yards (1,378) and sixth in touchdowns (12) thanks to his elite efficiency.
Since he was drafted, Pollard ranks third in rushing EPA per carry, third in yards per carry (5.1) and first in yards after contact per attempt (2.4) among 38 running backs with 400-plus carries over that span. He has shown that he can provide high-end efficiency with added volume and has earned an opportunity to be a lead back -- perhaps even in Dallas. He's a franchise tag candidate for the Cowboys, and Elliott could potentially be released as Dallas tries to open up salary cap space.

TIER III
Devin Singletary, Buffalo Bills
Age for 2023 season:26
The 2019 third-round pick is the only lead back who has appeared in 100% of his team's regular-season games over the past three seasons. Despite Buffalo often forcing a running back by-committee approach, Singletary has finished no lower than 10th in snaps or ninth in pass routes among backs in each of those seasons.
Yes, he has faced light boxes at a high rate, but Singletary's rushing efficiency has been good. His career 4.7 yards per carry ranks eighth among running backs with at least 400 carries since he was drafted. Singletary's receiving efficiency -- he has a 71% catch rate and 4.8 yards per target -- hasn't been good, but he does have at least 38 catches in three consecutive seasons.
Buffalo drafted James Cook and traded for Nyheim Hines last year, and both remain under contract. So an extension for Singletary is far from a certainty.
---
Welcome to the NFL offseason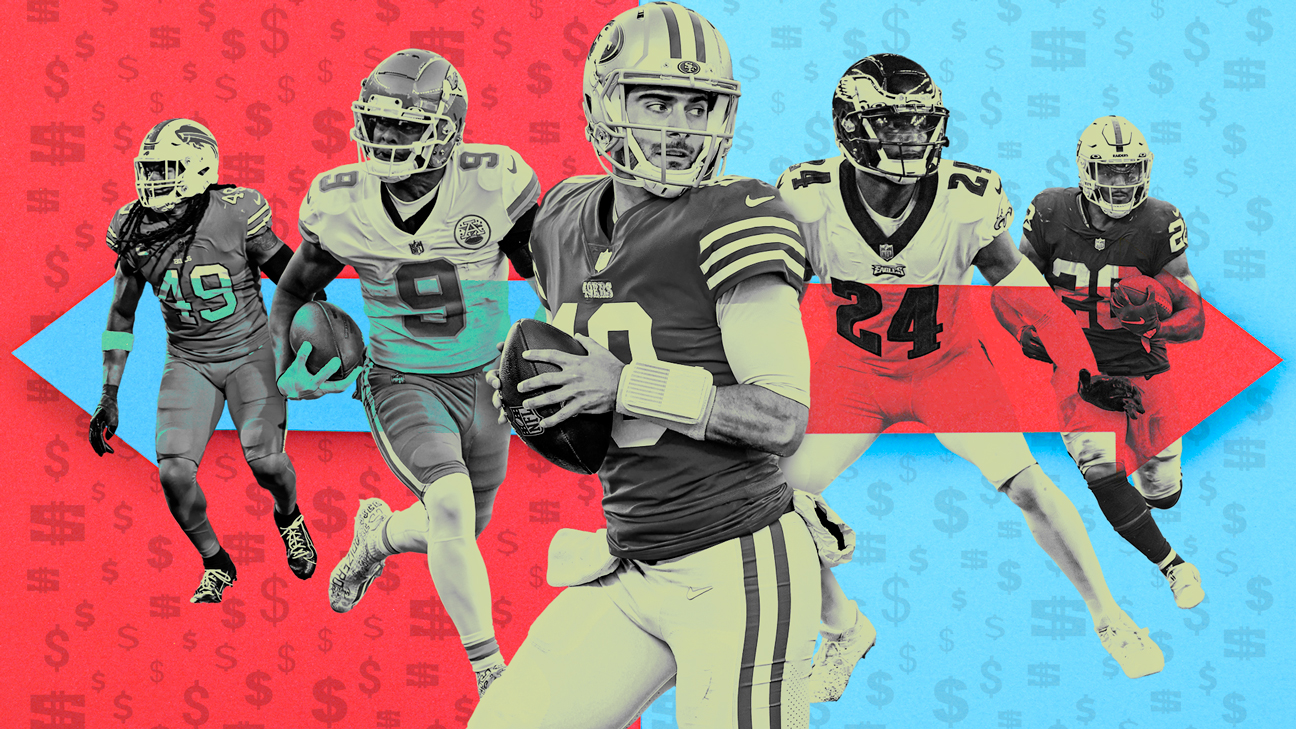 • Early Power Rankings for 2023 season »

Rebuild index: Tiering each team »

Ranking top 50 free agents »

Offseason guide for all 32 teams »
More free agency » | More draft »
Kareem Hunt, Cleveland Browns
Age for 2023 season:28
Hunt entered 2022 having averaged 2.4 yards after contact per attempt in his career. That paced all qualified backs since Hunt was drafted in the third round in 2017.
Unfortunately, the wheels fell off a bit this past season. Hunt was limited to career-low marks in yards per carry (3.8), yards after contact per carry (1.9) and yards per target (4.8). After going toe-to-toe with running mate Nick Chubb the prior few seasons, Hunt was clearly outplayed in 2022. He is a good bet to move on this season, and considering the down season and age, he's more likely to end up as part of a committee than in a featured back role.
---
Damien Harris, New England Patriots
Age for 2023 season: 26
After appearing in 12 games during his first two years in the NFL, Harris rushed for a 929 yards and 15 touchdowns during a breakout 2021 season. Injuries and the emergence of Rhamondre Stevenson limited him to under 500 rushing yards and just three TDs in 2022, but he remained an effective force on the ground and is averaging a healthy 4.7 yards per carry on 449 career handoffs.
Of course, the concern with Harris is his limitation in the passing game. The 2019 third-round pick has a 40 catches, 281 yards and no scores on 52 career targets. His 23 targets last season were a career high, and he turned them into an ugly 97 yards. With Stevenson still in the mix, Harris' role will be severely limited if he re-signs with New England.
---
Alexander Mattison, Minnesota Vikings
Age for 2023 season: 25
The youngest back on this list, Mattison impressed in Dalvin Cook's shadow during his first four NFL seasons. The overall efficiency doesn't leap off the page -- he has averaged 4.1 yards per carry over his career -- but his production when Cook missed time can't be ignored. Though he didn't miss a game last season, Cook was sidelined for four contests in 2021, and Mattison proceeded to lead the NFL in touches (105) and rushing yards (518) in his stead.
Mattison has good size at 5-foot-11 and 215 pounds, and he has shown the ability to handle big workloads. But as long as Cook is in Minnesota, it's possible Mattison will find a larger role elsewhere.

TIER IV
Rashaad Penny, Seattle Seahawks
Age for 2023 season: 27
On talent and efficiency alone, Penny could be a few tiers higher, but injuries continue to derail his career. The 2018 first-round pick is averaging 5.7 yards per carry over 337 career attempts. That is the second-highest in NFL history among backs with at least 300 carries, and it is tops among 77 backs with 250-plus carries since he was drafted.
On the flip side, Penny has missed at least six games in four consecutive seasons. And after appearing in only five games in 2022, he has dressed for 42 of a possible 82 regular-season contests since entering the league (51.2%). Penny has also failed to emerge as an asset in the passing game, having yet to clear nine catches in a season. Seattle will move forward with Ken Walker III as its featured back, so Penny could find a new home in 2023.
---
Jamaal Williams, Detroit Lions
Age for 2023 season:28
This may seem low for a player who paced the NFL with 17 touchdowns in 2022, but Williams is entering his age-28 season and has been a committee back throughout his six seasons in the league. He also wasn't a runner who reached the end zone much prior to 2022 -- he only scored touchdowns 21 times in his first five seasons -- and was all but a nonfactor in the passing game last season (73 yards on 16 targets).
Williams, whose 28 carries inside the 5-yard line last season was eight more than any other player, is a team leader in Detroit and a good bet to return as an early-down/goal-line complement to D'Andre Swift.
---

Get your favorite live sports, stories and originals with ESPN+, Disney+ and Hulu. Upgrade to a Disney Bundle plan and start streaming something for everyone today!
Jeff Wilson Jr., Miami Dolphins
Age for 2023 season: 27
Wilson is one of the few players who spent time as the lead back for two teams last season. After impressing on 102 touches with the 49ers, Wilson was sent to Miami after San Francisco acquired Christian McCaffrey. He immediately stepped into a large role alongside Raheem Mostert, averaging 10.5 carries and 2.8 targets per game over eight outings.
Despite facing heavy boxes at a very high rate, Wilson owns a solid 4.5 yards-per-carry rate on 474 career attempts. But his market could be limited by a lack of production in the passing game (57 catches and 5.2 yards per target in 53 games).
---
Raheem Mostert, Miami Dolphins
Age for 2023 season: 31
Believe it or not, Mostert's career 5.4 yards per carry is fourth-best in NFL history among all backs with 300-plus attempts. Unfortunately, his injury history has limited him to 465 career carries, as Mostert has played more than 11 games in a season just twice in his career (2019, 2022). He managed to play did 16 games this past season, though Miami acquired the aforementioned Wilson at the trade deadline and immediately handed him an even share of the backfield work.
Now 31, and not much of a factor in the passing game -- his 31 catches last season nearly matched his previous career total of 36 -- Mostert will be looking for a change-of-pace/committee gig this offseason.

TIER V
D'Onta Foreman, Carolina Panthers
Age for 2023 season:27
After performing well in relief of an injured Derrick Henry during the 2021 season while in Tennessee, Foreman did the same in place of a traded McCaffrey in 2022 with the Panthers. Over a two-year span, Foreman has faced an average of 7.2 box defenders per carry (highest among 25 running backs with 400-plus carries) but has still posted a healthy 4.4 yards per carry.
Foreman isn't an option in the passing game, considering he has 23 career catches over 43 games, but he'll provide value to a team as an effective, 236-pound early-down/short-yardage option.
---
Samaje Perine, Cincinnati Bengals
Age for 2023 season: 27
After failing to stand out during his time in Washington and briefly in Miami, Perine settled in as a reliable backup/complement to Joe Mixon in Cincinnati during the past three seasons. The 2017 fourth-round pick appeared in 16 regular-season games all three years, with his best work coming in 2022 (681 yards and six TDs on 133 touches).
Perine showed some potential as a lead back in 2022, producing 330 yards and four TDs on 63 touches during three games Mixon was absent, and he actually forced his way into a larger role down the stretch. He will look for a committee gig this offseason.
---
Jerick McKinnon, Kansas City Chiefs
Age for 2023 season: 31
After missing the entire 2018 and 2019 seasons due to injury, McKinnon made an improbable return to the league in 2020 and has since missed only four of 46 games during stops with the 49ers and Chiefs. He hasn't been much of a factor in the run game for some time (165 carries in those 46 games) but delivered in a big way as a receiver in 2022. He posted 56 catches for 512 yards and nine touchdowns for the Super Bowl champs. In fact, McKinnon is now one of seven running backs in league history to catch at least nine TDs in a season.
McKinnon figures to find work as a change-of-pace/receiving back, and he certainly could return to Kansas City as a complement to Isiah Pacheco.